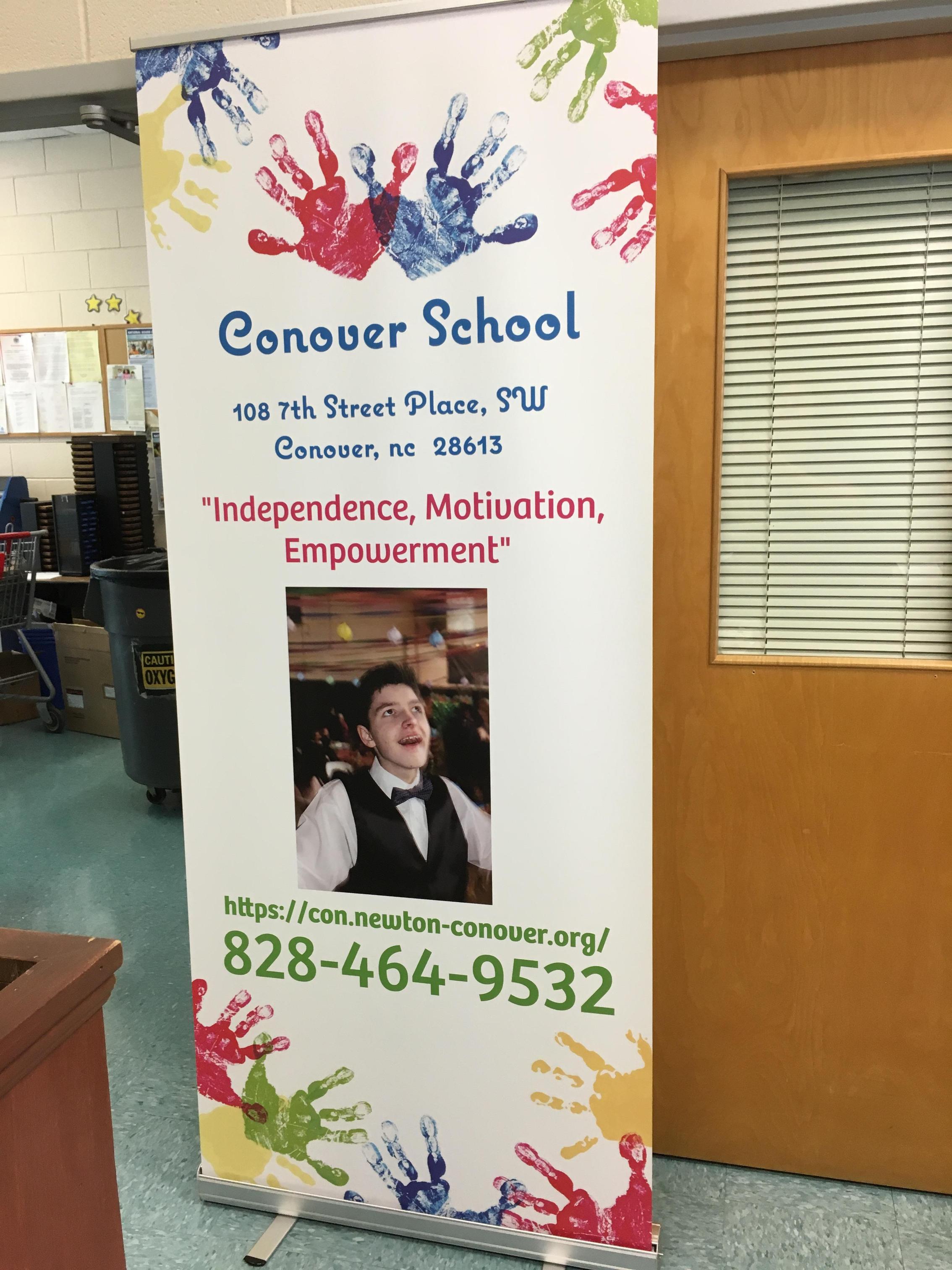 Conover School is a public separate school for students with disabilities located in Conover, North Carolina. Our school serves three school systems under the administration of the Newton-Conover City School System. We have approximately 100 students enrolled ranging in age from 3 to 22. Our students are divided into twelve homerooms. The classes are categorized into the age groups following: Preschool, Elementary Age, Middle School Age, and High School Age.
Our school is also home to The Future Ready Academy. Right now, we have three Pre-K Future Ready classes and will possibly have more as time progresses. The NC Pre-K Program is designed to provide high-quality educational experiences to enhance school readiness for eligible four-year-old children. The NC Pre-K Program Requirements are built on the National Education Goals Panel's premise that to be successful academically in school, children need to be prepared in all five of the developmental domains that are critical to children's overall well-being and success in reading and math as they enter school:
Approaches to play and learning

Emotional and social development

Health and Physical Development

Language development and communication

Cognitive development
The NC Pre-K Program Requirements are designed to ensure that a high-quality pre-kindergarten classroom experience is provided for eligible four-year-old children in each local NC Pre-K Program and that, to the extent possible, uniformity exists across the state. Programs are also required to meet the NC Child Care Rules. North Carolina is one of four states with a Pre-K program that meets all 10 National Institute of Early Education Research Benchmarks (NIEER). Benchmarks include comprehensive Early Learning Standards; staff meet education/licensure requirements, professional development; 1:9 staff/child ratio; developmental screens and referral; evidence-based curriculum and formative assessments; monitoring and nutritional requirements.
Our staff is committed to using best practice teaching techniques and maintaining a safe and orderly environment to support the mission of Conover School. We believe that each student is an individual with unique strengths and skills.

Through the collaborative efforts of staff, parents, community service providers, and students, individualized education programs (IEP) are developed annually. The student's IEP is based on his/her strengths, needs, and interests. In on-campus and off-campus instruction all students work toward functional independence in their environments.
We at Conover School are very proud of our Field of Dreams and Memorial Fountain those in our community helped us to make a dream come true.
The family and friends of our former student, Henry Byrd, created a special place in our courtyard in Henry's memory. It is called the Byrd Sanctuary and each season, the decorations change. There are comfortable chairs and swings and special, hidden decorations among the plants and bushes.
Please come visit and see what dreaming big can become.
Conover School is successful because staff, parents, students, and community supporters are in partnership to create a school environment that promotes optimum learning and achievement for all students.
Opportunities to become a part of the Conover School family are readily available.
Please give us a call and find out how you can help.
Accomplishments:
PBIS Model School

5 Star Developmental Day Ranking

Exceeded United Way goal

District Teacher of the Year, Rochelle Medvec

High school students exhibiting factory items at CEC Conference in Greensboro

4 Innovative grant winners

2 NBCTs
Focus for the School Year:
Implement Unique Learning Curriculum in reading and math

Follow all developmental day rules and regulations

Learn and implement changes with the Extended Content Standards

Team teaching in high school

Funding/grants for playground, therapy, and low tech equipment